What All Brands Can Learn From The Frozen Berry Scandal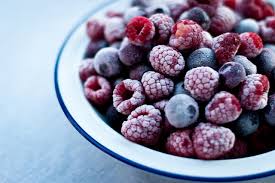 As I walked into my local Woolworths, going about the usual thoughts of how I can turn Monday night dinner into an MKR culinary experience, I looked up to see fresh berries, in a prominent front-of-store position. My first thoughts were, here we go… Woolies are going to take advantage of the Hep A outbreak and charge a premium knowing full well that frozen berries were now crossed off the shopping list of most mums. It was refreshing to see the berries displayed at a price lower than they have been previously, so I bought some. I wasn't even after berries. And now more brands are smartly capitalising on the situation, like Aussie brand 'Matilda's' which is launching its berries to market this year.
Unfortunately for Patties, the company behind Nanna's and Creative Gourmet frozen berries, I doubt similar buying situations are currently happening for their products. At last count there have been 26 reported cases of Aussies contracting Hepatitis A and being connected to eating the frozen berries. Patties' company statement, with its CEO quoted, denies the links and maintains it has removed products as a precautionary measure only.
Coming from years in crisis communications, even I'm starting to question the actions of the company over the past few weeks of being in the spotlight, and am beginning to consider the possibilities of their brand ever fully recovering. Soul Origin faced similar reprimands in relation to its tuna and continues to be in the face of media.
The best thing Patties has done is complied with the authorities and removed product from all stores. Additionally, it has presented FAQs, and its company positioning (direct from the CEO) as its home page.
When in crisis mode companies need to resolve the issue as swiftly and with as little brand damage as possible. Other brands in its portfolio and the general business needs to continue operating at the same time.
In observing the media, Patties is really lacking a positive position, with its products being directly linked to the incidence, and whilst there is a lack of 'voice' in the coverage (despite its company positioning), the average consumer will believe what the media is telling them.
Despite the flourish of coverage in the marketplace, only a single 2GB media interview is published, acting as a homing-point for consumers wanting to hear directly from the company. I would take a stab that the company released a generic statement to media but has been a little closed in its strategy of putting the CEO forward.
Clever organisations can actually turn a crisis into something positive, once the dust settles, and even go on to boost its share and sales afterwards. We've seen it happen with multiple brands like Mars. To do this, you need absolute transparency and intention to resolve the incident honestly and efficiently, a CEO who the public listens to and in their own way builds a relationship with them, easy access for everyone to get their questions answered, and a two-way communication platform.
Patties could be much more strategic in utilising the power of social media – a lively platform where information can be presented in a straight-forward 'consumer-friendly' way, regular updates incorporated (last facebook post was 20 February – a month ago) and prevailing questions replied to. While its website could use much more interactivity and regular updates – for instance via a CEO video – rather than a single holding page on the matter. The frequency of communication is important and demonstrates the company cares. A dedicated help line could be profiled and corporate advertisements used to supplement media relations and additional digital media strategies, to ensure key messages and updates are being followed and understood.
And what do you do when your category is in the midst of crisis mode, how do you avoid being swept up in the same storm? You too need to be in 'crisis mode' and protect the brand's reputation. From a media relations point of view, you really don't want to be caught up in the 'chatter' and have your brand associated with the incident. Consider third party spokespeople to represent your positioning – such as industry bodies, health experts or authorities. Employ your suite of communication platforms and ensure you utilise the opportunity to inform the public and your key stakeholders of the situation.
And like Matilda's, identify a media angle that the public will respond to, like buying local.
As seen in B&T on March 20th, 2015.