Naim Audio, Focal and Bentley join forces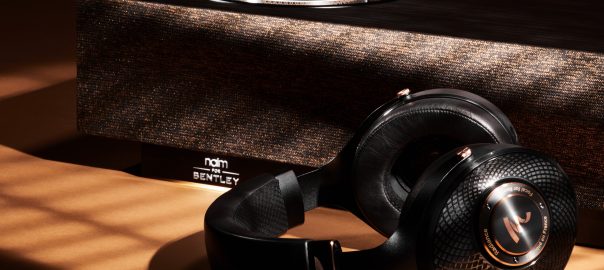 Naim Audio has been supplying bespoke car-audio systems for Bentley Motors since 2008, and Naim and Focal merged in 2011. Now, all three companies have worked together to produce two new high-end audio products for the home: The Naim Mu-so for Bentley Special Edition (a luxury version of the Naim all-in-one music player that earned our Editors' Choice award in September 2019), and an entirely new headphone, the Focal for Bentley Radiance.
Focal for Bentley Radiance
The Radiance headphone is arguably the more interesting of the two new products, since it is an entirely new design with brand-new drivers: 40mm (1-5/8-inch) M-shaped domes fabricated from aluminum and magnesium. Focal says the Radiance will deliver frequency response of 5Hz to 23kHz with THD of 0.1% @ 1kHz/100dB SPL, and a sensitivity of 101dB SPL/1mW @ 1kHz. With 35 ohms of impedance, these headphones should be easy to drive even with the smaller amplifiers in mobile devices.
Naim Mu-so for Bentley Special Edition
The enhancements to Naim's self-contained wireless music player are all about appearances, not that the lovely-sounding Mu-so 2nd Generation needed much in the way of sonic improvements. Like that system, the Bentley Special Edition is powered by a 450-watt amplifier driving pairs of 1-inch silk-dome tweeters, 2-inch mid-ranges, and 5-inch long-excursion woofers.
For the fill story head to TechHive