Eight trends to look out for in influencer marketing in 2022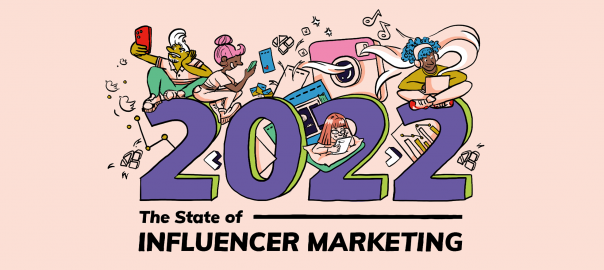 Over the past two years the marketing and advertising industries were heavily affected by the pandemic, with budget cuts aplenty and client retention more difficult than ever. Nonetheless, the value of the influencer marketing industry has more than doubled since 2019, growing from $6.5 billion to $13.8 billion in only three years*.
When the world shut down and outdoor media and TV were lacking reach, the internet (and social media specifically) skyrocketed. Where money was formerly invested in large TVC campaigns and curated photoshoots, it was instead invested in content creators and repurposing organic content for paid social campaigns.
It was a difficult time for many, with most influencers initially fearing they'd lose their income. However, as companies came to terms with the fact the situation was not temporary, influencers and content creators became the Holy Grail for brands.
As we take what we've learned from 2021 and look forward to 2022, here are eight trends to look out for in influencer marketing next year.
Taboo is in
As we've seen with the decreased stigma around mental health, we'll see a lot more people talking more openly about their sexuality – and not just their gender and pronouns. We've already started to see sex toys promoted and talked out, as well as other taboo topics like politics and vaccines. Traditionally people have steered clear of publically voicing their opinions, but in 2021 we learned that whether you share your opinions or not, you'll never please everyone. Its likely people will be more open in sharing these parts of their lives in 2022.
Contra no more
As influencers become more comfortable having conversations about what they charge and encourage others to also start being paid their worth, the era of contra campaigns may be coming to an end. There will always be some profiles and brands that will work for contra, but brands really need to consider if the content being created is valuable as part of an overall strategy. It will always depend on the objectives for each campaign, but most brands that are working with influencers can afford to pay for the time and content being produced – after all, they likely want to repurpose so payment of some kind is only fair. If you do have a low budget, there will always be an agency that can work their relationships and negotiate the best deals for you.
More 'collaboration'
With Instagram's latest 'collaboration' feature allowing channels to share the same post directly to both feeds, we will see an increase of content and captions designed to meet the needs of both brands and influencers. Not only does it save time for both parties, you share the reach of each other's platform and following, but we know social media favours those that use the latest features. So get collaborating.
Branded content is cool again
As influencers become more business savvy and understand the demand for authentic and genuine branded content, the statistics are showing increased engagement in recent years. Gone are the days of one-off brand posts, in 2021 influencers are becoming ambassadors for brands, agreeing to a contract of X time and X posts minimum. This also comes back to point 2…the more open influencers are with their audience and the importance of the branded work they do, the more followers are willing to engage and purchase the product or service being promoted.
Authenticity over transaction
Further to above, and as we've already seen in 2021, authenticity has been a big buzzword and focus for social media. From brands jumping on social bandwagons such as Black Lives Matter and Pride Month without the policies or representation in place, to influencers promoting fake news about a topical issue just to get engagement, authenticity has been questioned in many realms. This may mean picking and choosing which social causes that align most to your values and you've done your research on, or turning down collaborations with brands that don't share the same ethos as you. As we saw with numerous media personalities this year, audiences are so attentive and will go to any lengths to dig up old posts if they feel current actions don't align.
Micro-influencers continue to lead
In such a saturated industry, influencers are constantly competing for attention among their peers, brands and advertising content appearing on user feeds. We know however, that engagement with accounts makes them appear more frequently in your feed. This is where micro-influencers dominate. With a following anywhere between 10-15k followers, it's much more likely you'll be able to interact and reply to comments on this scale than a Kardashian with hundreds of millions of followers. Don't get me wrong, it's still a mammoth task to keep up with – however the best of the best dedicate time to this and they most certainly reap the benefits. Brands are always on the hunt for influencers with truly engaged audiences, as with so many monitoring tools you can no longer hide the true reach of sponsored content.
Can't deny the facts
Facts as in statistics. With social media monitoring platforms in use by most major influencer management agencies, we hope to say goodbye to the era of fake followers and engagement pods. While the latter is said to boost engagement, the metrics that track sales and traffic from an influencers post/story likely won't match up to what seems like a deeply engaged audience.
Social lives on
One thing the marketing industry learnt from the pandemic, is that social content can successfully be repurposed for so many platforms. From TVC to PR, EDM's to e-commerce, one well planned influencer campaign can save time and money elsewhere. While some influencers prefer to keep their pages on trend, which is currently unfiltered and blurry, there is still a large cohort of content creators producing high quality work from their phones.
https://www.statista.com/statistics/1092819/global-influencer-market-size/
Rachel Demarco, Senior PR/Influencer Manager, #AsSeenOn Influencer Management Agency