9toThrive with the work wives | Sydney PR Agency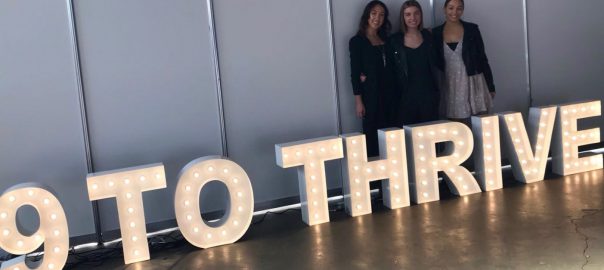 9toThrive with the work wives – By Yaso McMillan, PR/Marketing Assistant, Sydney PR Agency – InsideOut PR
What's better than a day out of the office sipping rose-petal dusted frosé with the girls and meeting some of the most successful women in business? Absolutely nothing.
Friday Morning
It all started on a sunny Friday morning when the IOPR girls decided to get out from behind the desk and network at the Business Chicks event of the year, 9toThrive. The day started with great anticipation as a long line of equally excited women stood waiting for the doors of the Royal Hall of Industries to open. Everyone poured in like champagne; the hall greeting us with Dua Lipa and all round good vibes.
9 to Thrive Sydney is next week!

Business Chicks' biggest event of the year is back next week! 9 to Thrive is taking place on the 10 + 11 August at the Royal Hall of Industries in Sydney. Speakers include: Rachael Finch, Leah Itsines, Tanya Hennessy, Roxy Jacenko, Jackie Frank, Antonia Kidman, Emma Isaacs, among business leaders from Google Australia, Eventbrite, Bumble, and Geek Girl Academy to name a few. See you there! All tix and info: https://businesschicks.com/9tothrive-tickets-2018/

Posted by Business Chicks on Wednesday, August 1, 2018
Dance Party
As we made our way through the maze of 80+ brands towards the main stage, we were welcomed by none other than the hilariously gorgeous Shelly Horton, one of Australia's leading lifestyle commentators. She could not wait to show off her amazing moves, making the crowd join in on her 20 second dance parties.
"I kind of feel like Ellen, rocking my own DJ," she exclaimed as she convinced us to bump and grind. Determined to win some prizes, it was at this point we justified the age-old saying, 'it's 5 o'clock somewhere', regardless of it being 10am.
Her interview with publicist Roxy Jacenko kick started a day of honest revelations and inspiring life stories that set the premise for the entire day. Uplifting other women in business and helping them flourish was the atmosphere with presentations on 'Winging It' and how to be heard above the noise.
Brands, brands and more brands
We spent our day savouring everything the brands and stalls had to offer. We fist-bumped when our PR/Marketing Manager, Rachel and our PR/Marketing Coordinator, Megan won prizes, and pouted when we missed out on the free Halo Top ice cream.
Networking with up and coming brands was the real goal. As PR professionals do, we strutted our stuff to the brand stalls and focused our energy on meeting new faces and getting to know their story, as well as how we could assist them reach to their goals from a PR perspective.
Fan-girling
Megan almost died from fan-girling, meeting one of her all-time favourite comedians. Tanya Hennessy was every bit as real and hilarious as she seemed, which added fuel to the fire. While Sophie Cachia kept it raw and honest about the ups and downs of building a personal brand on social media while running 3 businesses and a household.
All in all, I would say it was a successful day. Truthfully, any day that involves food trucks and free samples could be considered successful, but this one takes the cake.
Watch out Business Chicks, we're already making plans for next year!